You don't know how to make a reservation?
Select accommodation Gyenesdiás
Other cities and destinations Hungary
Country houses Gyenesdiás, Hungary
hide details
show details
Easy online booking of hotels, bed-and-breakfests, apartments in Gyenesdiás without booking fees.
You can use our online booking system to easily book not only accommodation Gyenesdiás, but also accommodation around the world.
When choosing accommodation in Gyenesdiás please be aware of the deposit and cancellation policies. The terms may differ across different hotels Gyenesdiás, or even across different rooms in a given hotel.
You can select the type of accommodation: Apartments Gyenesdiás , Bed and breakfasts Gyenesdiás , Country houses Gyenesdiás , Guest houses Gyenesdiás , Holiday homes Gyenesdiás , Homestays Gyenesdiás , Hotels Gyenesdiás
When you enter the dates of your stay Gyenesdiás, only available rooms, or units will be shown. You will be able to tell the type of accommodation in Gyenesdiás from the room or facility description. You can book a hotel room Gyenesdiás, an apartment Gyenesdiás, a house, an entire villa, and, in some destinations, even a bed in a tent, for example. :-)
Restricting criteria: Country houses
3 hotels around Gyenesdiás - distance 25 km
Erdőalja köz 4/b, Gyenesdiás, Hungary
To the centre of the city Gyenesdiás: ~1.9 km | Show the hotel on the map
Erika apartmanház is situated in Gyenesdiás, on the north shore of Balaton, 3 km from the beach. Free WiFi is available throughout the property. Opening to a terrace with garden views, the apartment has 3 bedrooms, a living room and a kitchenette. There is a fully e ...
To see prices and availability of rooms, please enter your arrival and departure dates
Béke u 1/b, Balatonberény, Hungary
To the centre of the city Gyenesdiás: ~7.5 km | Show the hotel on the map
Providing garden views, Liliána apartman in Balatonberény provides accommodation, a seasonal outdoor swimming pool, a garden and a terrace. The air-conditioned units are furnished with parquet floors and feature a private bathroom, a flat-screen TV, free WiFi, w ...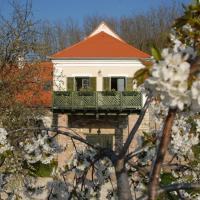 5 Bacs Hegy, Káptalantóti, Hungary
To the centre of the city Gyenesdiás: ~22.9 km | Show the hotel on the map
Situated in Káptalantóti, 32 km from Tihany, Sárga Ház features a garden and free WiFi. All units comprise a seating area with a sofa, a dining area, and a fully equipped kitchenette with various cooking facilities, including a fridge, a stovetop and a toaster. The cou ...